Pedro Zamora Young Leaders Scholarship
Click Here for 2015 Scholarship Information
Created in 2009 as the "Youth Essay Scholarship Program" and renamed in 2012 as the "Young Leaders Scholarship Program," the National AIDS Memorial Grove's college-scholarship program has to date awarded scholarships to 35 deserving individuals.  With major support from our presenting sponsor, UnitedHealthcare, $50,000 in scholarships have been awarded. Approximately half of the awardees are from outside the greater Bay Area, and in the last three years the program has become truly national in its reach.
In 2014 (with the blessing and the permission of Zamora's family), the Grove expanded the scholarship program and re-launched it as the Pedro Zamora Young Leaders Scholarship.  Dedicated to the continuing legacy of AIDS educator and activist Pedro Zamora, the scholarship supports the academic efforts of emerging young leaders who share Pedro's passionate commitment to ending the HIV/AIDS pandemic. At the age of 22, Zamora captivated the nation with his openness, compassion, vitality, and charisma when he appeared on MTV's The Real World 3: San Francisco (1994).  At the veritable dawn of reality television, America watched this grounded, insightful Cuban-American immigrant leave his tight-knit family in Miami and move across the country to live in a house with six strangers — where he was filmed in close quarters, day and night, whether he was in the "Real World" house, enjoying the day with friends, talking to a roomful of students, or going out on a date.
Pedro moved to San Francisco knowing that, for the first time, millions of young people would get an up-close look at a young Latino who was openly gay and openly HIV-positive.  Pedro leveraged this platform to address the sometimes competing needs of reducing stigma and reinforcing prevention. Viewers saw him living his life with joy and integrity, and trying to make a difference in the world.  They watched him laughing and arguing and enjoying an active life with easily made new friends.  They saw him fall in love and exchange commitment rings with another young HIV+ activist named Sean Sasser.  And they experienced the very personal impact of the epidemic as he wrestled with a progression from HIV to AIDS, first with a devastating low T-cell count, then a late-night trip to the hospital with PCP.
Pedro's participation in The Real World was a strategic extension of the work he had been doing for almost five years.  Soon after learning that he was living with HIV at age 17, Pedro literally dedicated his life to fighting the growing HIV/AIDS pandemic.  His chosen mission was to raise public awareness and to arm other young people with the information and tools they needed to protect themselves against a virus that he knew would claim his own life far too soon.  Long before The Real World, Pedro provided HIV education to thousands of middle- and high-school students in small-group, classroom, and assembly-style settings, also to trained educators and counselors; gave keynote addresses to national conferences of youth-serving professionals; battled stigma by sacrificing his privacy to raise awareness through profiles in major newspapers; and testified brilliantly, candidly, and bluntly before Congress on the failure of the public-health and education systems to be protective forces for young people during the most critical public-health threat in generations. Pedro's work was tragically cut short when he died of an AIDS-related illness, in 1994, the morning after the final episode of The Real World.  The Pedro Zamora Young Leaders Scholarship is meant to support and spotlight those young leaders from this generation, whose efforts and leadership continue to carry the torch of young activists like Pedro who fought the HIV/AIDS epidemic of their generation, in ways inspired by their own passions, insights, and conviction.
The mission of the National AIDS Memorial Grove is to provide, in perpetuity, a place of remembrance so that the lives of people who died from AIDS are not forgotten, and the story is known by future generations.  As a community and as an organization, we always remember, but we also continue to look forward.  We know that, despite growing misperceptions that the epidemic is contained, HIV/AIDS continues to ravage communities and cut short the lives and aspirations of millions of people.  We are acutely aware that 25% of new infections domestically, and 40% of new infections globally, are among youth and young adults.  And we believe that we have an ethical imperative to help create as well as support the next generation of HIV/AIDS leaders, be these doctors, nurses, activists, health-care professionals, policy-makers, or even philanthropists, by helping them as they pursue their education and careers.
Scholarship recipients — past and present — are engaged in a wide variety of HIV-related work both in school as well as within the chosen academic field.  Some examples of this include: pursuing a medical degree to work with HIV-positive individuals; strengthening community-based peer-education programs targeting both high-risk and HIV+ youth and young adults in a college setting academic studies in the fields of microbiology and computers to pursue a career in HIV research; working in an international setting providing HIV-prevention efforts; entering into the business/philanthropic community to strengthen corporate efforts to help fund community initiatives; and studying to continue working in the reproductive-health field to work with high-risk young women and addressing HIV, STDs, and reproductive health.
Pedro Zamora's life continues to inspire countless young activists through the syndication of the early years of The Real World, the award-winning graphic memoir Pedro and Me written by Pedro's close friend (and roommate from the show) Judd Winick, and the 2008 feature film Pedro.  The National AIDS Memorial Grove is committed to ensuring that Pedro's legacy continues and thrives through this scholarship program, and that his life and example will be an aspirational point of reference for a new generation of young leaders.
The Pedro Zamora Young Leaders Scholarship is open to all current high school seniors, and college freshman, sophomores and juniors (ages 27 and younger) who demonstrate an active commitment to fighting HIV/AIDS and taking on roles of public service and leadership. Examples include (but are not limited to): serving in peer-education and prevention programs; working in the reproductive-health and sexual health field; pursuing a medical degree to work with HIV-positive individuals; international service providing AIDS-related care and/or HIV-prevention education; research in established and emerging technologies designed to mitigate the epidemic; or activism and social change efforts that address issues contributing to the epidemic, like education and drug sentencing reform, employment and economic justice issues, housing and homelessness.  Scholarships range from $2,500 to $5,000, and award recipients are announced at the Grove's World AIDS Day Observance on December 1.
---
2014 World AIDS Day Observance
On December 1, 2014, the 21st annual World AIDS Day National Observance was held at the National AIDS Memorial Grove.  This year's Presenting Partners were Wells Fargo and Quest Diagnostics.  Mario Diaz, Vice President of Wells Fargo Foundation, introduced Dr. Rick Pesano, Vice President of Quest Diagnostics, who took the stage to speak of Quest's ongoing commitment to the fight against HIV/AIDS, and emphasized that we all must recommit ourselves to continue the fight in order to achieve an AIDS-free generation. Dr. Pesano's remarks ended with the quote: "Act as if what you do today makes the difference.  It does."  To listen to Dr. Pesano's full remarks, please view the video below: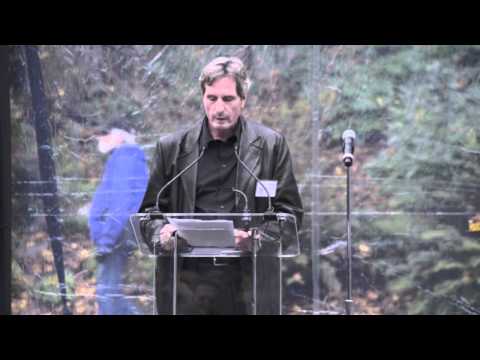 The theme of this year's observance was 'The Story Will Be Known By Future Generations."  Longtime AIDS and human rights activist and actress, Judith Light, was honored with the National Leadership Recognition Award.  Her story begins at a time when national leadership in the AIDS epidemic required a particular kind of courage.  Judith stepped up to provide much-needed visibility, support, money, and compassion.  A well-known and accomplished actor, multiple Tony and Emmy award winner, Judith involved herself in the AIDS epidemic starting in the 1980's, including playing the role of Jeanne White in the Ryan White Story.  She's also been a generous donor of time, energy, ideas, and 'light'.  Without hesitation, Judith brought her considerable reputation and influence during a time of crisis and stigma.  She identifies as an activist, and has 'walked the walk' for over 30 years.  Since the early days, she has lent her name, support, and energy by participating in marches and parades, and serving on committees and boards.  She's been a prodigious fundraiser, organizer, speaker, sponsor, and host.
"I am deeply touched and humbled by this honor," said Light.  "Too many lives have been lost to HIV/AIDS and too many of our friends and loved ones have struggled, not just fighting for their lives, but enduring endless discrimination and homophobia, which still exists today.  We must continue sharing our stories and our passion to not only find a cure, but raise the level of awareness so everyone, particularly our children, know they are loved, cherished and respected for who they are." To listen to Judith's full remarks, please view the video below.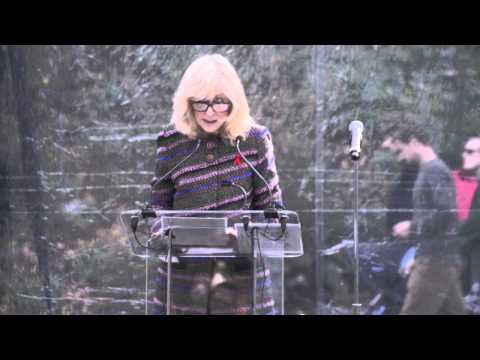 Paul Boneberg, executive director of the GLBT Historical Society in San Francisco, received the Thom Weyand Unsung Hero Award.  From a small group of concerned individuals working out of his apartment, Paul created one of the most amazing, comprehensive, and often overlooked responses to the HIV/AIDS pandemic.  In 1984 Paul founded Mobilization Against AIDS (MAA), the nation's first advocacy organization created to help improve the lives of people living with AIDS. He helped take over the AIDS Candlelight March, growing it to become the International AIDS Candlelight Memorial, the world's largest grassroots AIDS activity. After Paul left MAA he founded the Global AIDS Action Network (GAAN) and has served as the director of the AIDS Coalition Silicon Valley.  To listen to Paul's full remarks, please view the video below.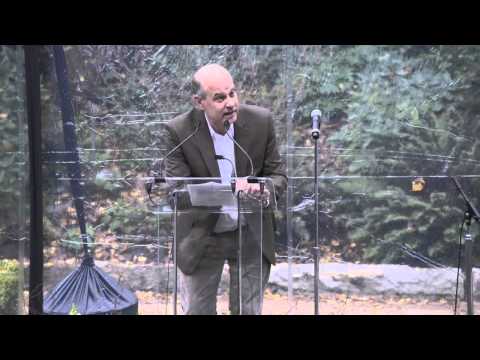 The Grove also awarded five scholarships to students this year as part of the Pedro Zamora Young Leaders Scholarship Award Program, with Alexander Pacach taking the stage to speak to his past and current community service, educational and career goals focused on HIV prevention amongst young people.  Funded through a grant from UnitedHealthcare, the $2,500 – $5,000 scholarships support the academic efforts of emerging young people who share Pedro's passionate commitment to ending the HIV/AIDS pandemic.  The scholarship program was renamed earlier this year in honor of AIDS educator, activist and reality television pioneer Pedro Zamora, who passed away twenty years ago from an AIDS-related illness.  Former "MTV Real World" cast members and roommates of Pedro, Judd Winick and Pam Ling, announced the scholarships, and scholarship recipient Alexander Pacach took the stage.  To listen to Alexander's full remarks, please view the video below.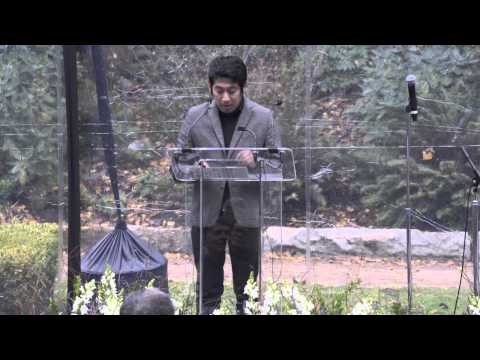 Sponsored by Wells Fargo and Quest Diagnostics, along with the support of many community partners, the World AIDS Day National Observance concluded with a gathering for the reading of the names of those engraved in 2014 into the Circle of Friends.
---
2014 Light in the Grove
On the eve of World AIDS Day, Congresswoman Nancy Pelosi, who in 1996 sponsored and helped pass legislation that designated the Grove as a National Memorial, was the featured speaker during the annual "Light in the Grove" fundraising gala in support of the National AIDS Memorial Grove's mission.  Much of the Grove was illuminated to honor those lost, and to celebrate the spirit of light and life.  600 guests experienced a candlelight reflection at the Circle of Friends, followed by a walk through the brilliantly illuminated Redwood Grove to enter a warm and clear tent where they enjoyed cocktails and buffets.  The evening included special musical and choreographed artistic performances.
Click here for 'pose & repeat' photos
"The Grove is a special place to come, not just to remember the loved ones we have lost, but to be reminded of the countless stories of the treasured lives whose spirits are a part of this beautiful space and who can never be forgotten," said Congresswoman Pelosi.  "Each year that passes without a cure only strengthens our resolve to end this devastating disease and stop this senseless loss of life."
The 2014 Light in the Grove 'Lifetime of Commitment' award was presented to Ken Henderson, executive director, and Joe Seiler, board chair, of the Richmond/Ermet AIDS Foundation (REAF).  Ken and Joe's story with REAF began twenty years ago when they began producing a fundraising entertainment event called "Help is on the Way: San Francisco Cares" which has become one of the Bay Area's largest annual AIDS benefit concerts, distributing more than $3 million to over 30 Bay Area AIDS service agencies.
REAF was founded in 1994 by two mothers, Barbara Richmond and Peggy Ermet, who each lost their only sons to AIDS, as a way to both honor their sons' memories, and to raise funds for the kinds of agencies that provided services for them before they died.  With the help of long-time friends Ken and Joe, these remarkable women inspired the mostly-volunteer organization that has helped so many AIDS organizations throughout the years.
---
Thom Weyand, Board Member: What the Grove Means to Me (May 29, 2014)
2014 marks the 25th year since the idea of an AIDS Memorial Grove in San Francisco was conceived. Below Thom Weyand, former executive director and current board member, reflects on what the Grove means to him.
When I was a teenager bicycling around the edges of my South Buffalo (NY) neighborhood, I came upon a modest but dense beech-tree grove in an Olmsted park. The grove was magical. The leaves of the trees formed a canopy that felt like a hidey-hole.  The knobby trunks and low-hanging branches made for an easy climb to a perch that had my name on it (tree-huggers, note: not really).  In here I was embraced and the world outside the grove was, well, outside.  I connected to something special, something that I would later call spiritual and life-affirming.
Those were the words that came back to me three decades later when my (now) husband Terry and I first descended into de Laveaga Dell and discovered the National AIDS Memorial Grove — in another Olmsted-inspired park.
This Grove is the place that so many had talked of, and now I knew why.  This is the place I would visit for nearly two decades — first as visitor, then executive director, and a few years later as a member of the Grove's governing board.
This is the place I can shed my worries, my fears, my tears.  This is where I have a heart-connection with nature, and I am allowed all the expanse I need to feel the loss I have weathered, the grief that comes with so much loss — and now my own personal grief derived from seeing the time remaining in my life measured in months, not years.
For this reason, many loving relatives and friends have been visiting Terry and me of late.  If the occasion arose, I'd take them to the Grove's Circle of Friends, a stellar destination and one I felt fairly safe about reaching in my weakened condition.  Eventually I would hear the comfort call of a nearby bench and suggest that the others enjoy a more complete Grove tour, taking in the redwoods, the Japanese maples, the rhododendron trees, the bays and laurels, and any of the several broken-circle hardscape features, broken to reflect the searing tear in our community from the ravages of AIDS. 
I didn't mind resting on the bench while they moved on.  Being alone and at peace in the Grove was always special for me.  Now, I found myself reflecting on many of its attributes.  I looked down the length of the Meadow and I remembered how the Crossroads Circle was not there for years, leading some people to think that the west end of the Meadow must be the western terminus of the Grove as well.  But now, with the Crossroads Circle in place, viewing it from the redwoods one's eyes will venture further — to Moonwalk Way and the North and South paths running along the creek-bed.  It is along this creek that the tenor of the Grove changes from a light open space to a cool welcoming darkness.  The paths will take them still further west, back to the light, to the Circle of Peace, the Thom Gunn quatrain, Henry Wells' inspirational words, and to the head of a restored Victorian-era waterfall that begins here.  A small conceit: I conceived the Crossroads Circle, though I was too ill at the time to see it built; that would come later when I also first saw the West Portal and Belvedere Overlook, where a snapshot chronicle of the history of AIDS continues to give every reader pause.
I'd further look back on the gifts of so many who have made the Grove possible — the founders, the donors, designers, the gardeners, the skilled site people, the Workday Volunteers who have put their hearts and guts into honoring and memorializing their loved ones, friends, and even strangers — by tending the Grove with shovels, gloves, and various tools.  I remain in awe of all the sweat equity, all given freely and unconditionally.
Most of all, though, sitting on that bench while the others roamed gave me time to reflect on the memorial services that were and are held in all the circles, and other places throughout the Grove, countless places.  I'd reflect on the people I'd known and lost; I didn't know I had so many tears.
And I'd reflect on the truth that this was a once-derelict 10-acre space.  Turn it 180 degrees and take it two-plus decades down the road: now this National Memorial shines.  It speaks of honor, life, and love every minute, every day.  Love lives here.
The love goes back to Day One.  At the time the Grove was founded, it was common to see men — and some women — hold back from shedding tears in public.  The Grove changed that: it provided a safe space for all — men, women, and children to cry out their sorrow — with no fear of recrimination.  Not only is it a safe place but the Grove also provides a space for us to take that sorrow and turn it into the loveliest of God's creations: a garden, a garden that heals, honors, and embraces (not unlike the embrace I felt from the canopied trees of my teenage grove).
I'm lucky.  My time at the National AIDS Memorial Grove as executive director, then later as a Workday volunteer and board member, has blessed me enormously over almost two decades.  I have watched new hardscape spaces appear and fill needed and in some cases unexpected roles, complementing the entirety of the place.  I have watched landscape designs mature and in some cases change, bringing more depth and beauty to this grand space.  One year I was proud to be part of the team that gained the Grove a Silver Medal in a national competition of Urban Excellence.
For all this, it is important to remember that the Grove grew organically from a small community project to become a national memorial, a positive expression of grief.  But the term national memorial implies a curious mantle: it means the Grove has a greater role to play both in the lives of more Americans and in our national history.  The National AIDS Memorial Grove is the repository; it is where people come to hear the stories.  Ask any Grove visitor touched by AIDS to tell you a story.  They will spill out their heart.  It's that simple.  This special, sacred place would only be a shadow of itself without the loving care showered on it by all who made it.  Now, together, we must draw on that same spirit, that love to continue to transform this space truly into the nation's AIDS memorial.
Most likely I won't live to read and hear these future stories but many of you will. Let these be your inspiration for unearthing and revealing more…story by story by story.
---
The Future of the Grove (May 29, 2014)
What is the future of the National AIDS Memorial Grove?
The future of the Grove includes you, and all who care about, visit, wonder about, or rely on it.  It will forever be connected to you and those you remember and honor by being here.
Over the last two years, the board of directors, staff, friends, and advisors worked together to create a five-year strategic plan.  Early in this effort, we crafted and adopted a new mission statement:
"The mission of the National AIDS Memorial Grove is to provide, in perpetuity, a place of remembrance so that the lives of the people who have died from AIDS are not forgotten and the story is known by future generations."
This work was done to prepare the Grove to resonate with future visitors, new generations, survivors, friends and family, and the so-called "AIDS Generation."  This is a daunting task to say the least — and perpetuity is a very long time!
The strategic plan is focused yet far-reaching, and covers the years 2014-2018.  The first year (2014) is dedicated to assessment, learning and building, and articulating an appropriate and compelling vision, as well as engaging stakeholders — you.  Your input is critical the first year to help us shape the future.  The Grove needs your knowledge, perspectives, and participation.
The Grove will always be a special and sacred place to memorialize and honor individual lives.  However, as the site and agency have evolved, important and yet unrealized potential has been revealed.  The Grove has a significant national calling to place those lives in the larger historical context of the American social response to AIDS.
The Grove seeks to provide resources and leadership for ensuring that the stories of the lives of real people are shared, preserved, and honored.  Perhaps you've asked yourself these questions: Will the memorial resonate with future generations?  Will the story, and our stories, be conveyed by the memorial when we are no longer alive?  And since the pandemic is not over, what future stories are waiting to be told?
The epidemic is not over for millions of people both here in the US as well as around the world.  As we preserve the history of all those lives lost to HIV/AIDS as well as the history of those survivors and fighters in the epidemic, we must be cognizant of and responsive to address the needs of younger people and future generations.  The commitment from the Grove is to find inclusive and powerful ways to tell the stories, so that never again will any community be allowed to die from fear, silence, bigotry, and stigma.
In 2012, the boundaries of the Grove were officially expanded by an additional three-plus acres of land adjacent to the West Portal.  This new space presents an exciting opportunity for both the Grove and our nation.  Please look for future announcements from the Grove on the strategic plan, stakeholder engagement, and story preservation.
The future of the Grove includes you in the next chapter in our history.
---
Board Member Update (May 29, 2014)
Over the past several months, there have been some new additions to the board of directors of the National AIDS Memorial Grove.  You may have already seen and met many of them at one of the Community Volunteer Workdays, or even at Light in the Grove or World AIDS Day, but we wanted to take this opportunity to introduce them to you by telling you a little about each one.
| | |
| --- | --- |
| | Richard Dellefave:  An attorney and CPA, Richard joined the board in July 2013. Formerly a practicing attorney, and then small-business owner (a resort in Palm Springs), Richard has since become a CPA and auditor for the RINA Accountancy Corporation here in San Francisco.  In addition to being an avid gardener, Richard is associated with GRGR/West (Grass Roots Gay Rights/West), the organization responsible for the annual REAL BAD party (now in its 26th year).  In the past quarter-century, REAL BAD has raised over $2 million for LGBT organizations.  Richard serves as Chair of the REAL BAD Board of Directors. |
---
| | |
| --- | --- |
| Tracy Curtis: Tracy joined the board in July 2013, when she was Senior Vice-President at Wells Fargo, managing and implementing marketing and business strategies for Wells Fargo's Retail and Business Banking functions for the San Francisco region.  Tracy was one of the powerful speakers at the Grove's 19th Annual World AIDS Day Observance in 2012.  Tracy also served on the board of directors of both The Shanti Project, and the International Museum of Women.  Recently, Tracy was promoted to president of Wells Fargo's operations in Oregon and Southwest Washington. | |
---
| | |
| --- | --- |
| | Seth Hammac:  Seth has been a long-standing fixture at our regular Community Volunteer Workdays, having been a regular attendee for over seven years before joining the board in November of 2013.  Before joining the board, Seth actively participated as a member of the Grove's Workday planning committee, as well as being a volunteer team-leader.  Seth first came to the Grove through HandsOn Bay Area, an organization with a long-standing volunteer relationship with the Grove.  Seth currently works for Google as a Solutions Consultant, and prior to that he worked for Microsoft and CNET Networks. |
---
| | |
| --- | --- |
| Dan Bernal:  The San Francisco Chief of Staff for Democratic Leader Nancy Pelosi, Dan joined the board in December 2013.  Dan's affiliation with the Grove stretches back to 2002, both as an individual and as a liaison for Leader Pelosi.  When not working for Leader Pelosi, Dan can be found either training for or riding in the AIDS Life Cycle, where he has consistently been one of the lead fundraisers for that event.  Dan is the former board president for the AIDS Emergency Fund/Breast Cancer Emergency Fund, and has served as a member of the board of the San Francisco AIDS Foundation, and has been honored as the recipient of the Bohnett Fellowship for the Harvard Kennedy School of Government's Senior Executives in State and Local Government. | |
---
| | |
| --- | --- |
| | Allison Oseth:  Allison also joined the board in December 2013.  Allison currently is the Individual Giving Manager at the California Academy of Sciences (one of the Grove's neighbors in Golden Gate Park).  Allison has almost a decade of direct and progressively responsible fundraising experience as has successfully managed the development of the Academy of Science's annual report for the past two years.  Previously, she worked for the Portland Art Museum.  Allison is a certified naturalist from the University of California and additionally serves on the Advisory Council of the Conservatory of Flowers in Golden Gate Park, as well as being a member of the Association of Fundraising Professionals, Golden Gate Chapter. |
---
| | |
| --- | --- |
| Mark Ng:  The most recent person to join the board (May 2014), Mark is the San Francisco Bay Regional Sales & Marketing Manager for Wells Fargo Bank.  Many remember Mark from his deeply moving remarks at the most recent World AIDS Day observance in the Grove.  He brings many years of service in the non-profit sector, over a decade of experience in marketing and communications in the business sector, and a passionate commitment to both youth and communities of color.  Mark received his masters from Princeton University's Woodrow Wilson School of Public and International Affairs, and is a board member of the National Gay and Lesbian Chamber of Commerce and a talented photographer. | |
---
2013 World AIDS Day Weekend Events (December 2, 2013)
The National AIDS Memorial Grove commemorated World AIDS Day with two days of events honoring leaders instrumental in the fight against AIDS, and whose extraordinary work has made a significant impact during the more than thirty years since the first diagnosis of AIDS in the United States.  This year's honorees symbolize the spirit of the Grove and its collective mission and work to fight against AIDS.
Light in the Grove
On November 30th, the eve of World AIDS Day, the National AIDS Memorial Grove once again held its annual Light in the Grove gala fundraiser, which brought together more than 500 supporters, volunteers and community leaders for an evening of remembrance, renewal, commitment and reunion. This iconic event offers a nighttime journey through darkness and light, loss and hope. A sell-out the past three years, Light in the Grove offers a unique evening experience in Golden Gate Park; an outdoor, transparently-tented celebration with cocktails, hors d'oeuvres and dinner, featuring music, performance, art and brilliantly evocative, surreal and technical displays of light.
This year, we were thrilled to have as co-chairs the original three creators of Macy's Passport: Patrick Smith, Laura Heffron, and Larry Hashbarger, whose extraordinary talents helped to raise $28 million for HIV/AIDS charities and research projects over twenty-seven years.
Tim Hanlon, President of the Wells Fargo Foundation, was presented with this year's Lifetime of Commitment Award.  Tim helped change the direction of corporate philanthropy in the early days of the AIDS epidemic, leading Wells Fargo to become a strong advocate for HIV/AIDS prevention and education programs. His powerful voice set a path for others to follow, making support for AIDS funding mainstream in corporate philanthropy.  Tim has helped lead Wells Fargo to provide more than $17.8 million to local AIDS-related causes around the country during the last decade, with more than $575,000 donated to the Grove. Wells Fargo and its employees have also given more than 5,000 volunteer hours to support the Grove and helped secure critical funding to ensure that the Grove remains an important part of the national landscape, informing future generations of the American story of AIDS.
Click the links below for photos of Light in the Grove:
http://www.flickr.com/photos/nationalaidsmemorial/sets/72157638330876395/
http://www.flickr.com/photos/nationalaidsmemorial/sets/72157638352764746/
World AIDS Day Observance
During the World AIDS Day ceremonies at The Grove on December 1st, the National Leadership Recognition Award was awarded to Phill Wilson.  Phill is the founder, President and CEO of the Black AIDS Institute, the only national HIV/AIDS think tank focused exclusively on Black people. With a long history of advocacy work, Phill is a well-known and respected national leader and HIV/AIDS expert. For five years, Phill was Chair of the Ryan White Planning Council and instrumentally involved in the crafting of the Ryan White CARE Act. He was also a member of the HRSA Advisory Council, the Board of Directors for AIDS Action, Co-Chair of the Los Angeles County HIV Health Commission and Director of Policy and Planning at AIDS Project Los Angeles. More recently, Phill was an opening-day plenary speaker at the XIX International AIDS Conference in Washington, D.C. Phill is actively involved with other local and national community-based and AIDS service organizations, including serving on the Presidential Advisory Council on HIV/AIDS.
Franco Beneduce was awarded the Local Unsung Hero Award posthumously on World AIDS Day. Throughout his life, Franco was involved in LGBT causes and issues. He was the visionary creator and producer behind the annual Light in the Grove event at the Grove, and the Folsom Street Fair's Magnitude after-hours dance party.  He lived by the motto, "Go big or go home."  In the mid 90's, Franco co-hosted Closet-Free Radio, one of the first commercial gay/lesbian radio talk shows in the country. He also produced Rhode Island's AIDS Walk.  He lived in the Bay Area for two decades, where he raised funds for and supported various LGBT nonprofits, including the Folsom Street Fair and the Grove.  Franco was a creative genius, whose love of beauty was matched only by the magnificence of his heart.  Besides his numerous creative achievements, Franco's proudest accomplishment was the two boys he was helping to raise, and his extensive community of friends.
Financial scholarships ranging from $1000 to $2500 were awarded this year to nine college students from six states as part of the National AIDS Memorial Grove's Young Leaders Scholarship Program, which culminates each year on World AIDS Day.  The scholarships are funded annually through a generous grant provided by UnitedHealthcare.  Two scholarship awardees, Laura Potter and Jose Comi, took the stage at the World AIDS Day Observance, and shared their perspectives on the impact of HIV/AIDS on the younger generation, and their goals as future leaders in the fight against the disease.
The Grove was deeply honored to celebrate the tireless and passionate work of Tim, Phill and Franco and their life-long commitment to the AIDS community, and the Grove's mission.  Their collective leadership has made a tremendous difference in the lives of so many people and organizations who have been touched and inspired by their pioneering spirit. Additionally, the Grove takes great pride in helping to develop the next generation of leaders through its Young Leaders Scholarship Program, and encouraging continued public service and careers that will one day lead to a cure.
Click here for photos of the World AIDS Day Observance.
---
Pelosi Marks 25th Anniversary in Congress by Volunteering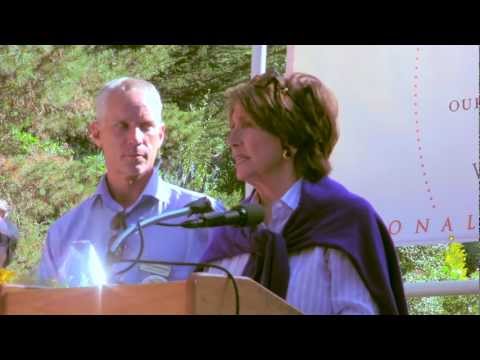 We were delighted that Leader Nancy Pelosi joined us at our Community Volunteer Workday on Saturday, April 21st. Her visit to the Grove commemorated her twenty-fifth year as a Member of the U.S. House of Representatives. Pelosi was first elected to the House in 1987 to represent California's 8th Congressional District, which includes most of San Francisco. In 2002, she made history when she became the first woman elected to lead a major political party in Congress; in 2007 she became the first woman elected Speaker of the House.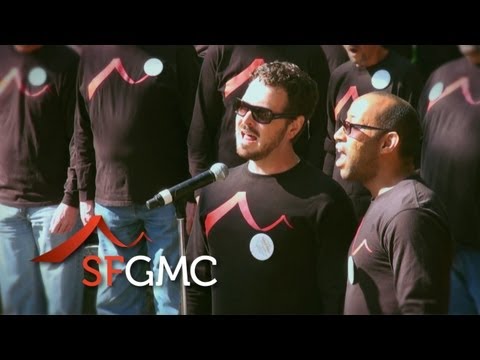 In her first speech to the Congress in 1987, Nancy Pelosi famously said she came to the House of Representatives to fight AIDS. In those days, some people suggested that she might not want to become identified with that particular cause. But Pelosi wanted to share what San Francisco had learned about prevention and care with the rest of the country, referring to the "San Francisco model of care."
Leader Pelosi helped enact legislation to assist in housing of people living with HIV/AIDS. She pushed to reauthorize the Ryan White CARE Act, which assists thousands of low-income people in getting care and treatment. Her efforts to prevent drastic cuts in care and treatment for San Francisco have resulted in the restoration of millions of previously cut dollars from systems of care that people living with HIV/AIDS rely upon for access to medications and primary medical care. She is committed to ensuring that care, treatment, prevention and research initiatives receive funding increases. Pelosi continues fighting to expand access to care as part of comprehensive health reform. She has also led efforts to fund the global fight against AIDS. If all of that were not enough, Leader Pelosi was instrumental in passing the legislation in 1996 that designated our local "AIDS Grove" as this country's National AIDS Memorial.
Representative Pelosi has faithfully commemorated her milestone years in Congress by volunteering at the Grove. On both her 10th and 20th anniversary years in Congress, she planted commemorative trees. Today, both these trees stand strong and graceful.
 Thank you Leader Pelosi for the honor of commemorating yet another milestone year in Congress with us at the National AIDS Memorial Grove!
Congratulations to the Winners of the 2011 World AIDS Day Youth Scholarship Award
The purpose of the National AIDS Memorial Grove's World AIDS Day Youth Scholarship Program is to engage youth to explore the ways they are touched by HIV/AIDS and the Grove. It is an essay contest for current high school sophomores, juniors and seniors, addressing the significance of HIV/AIDS and the National AIDS Memorial Grove in up to 750 words, and judged by a panel of experts from the community. This year, four scholarships of $1,000 USD were awarded, and winners were recognized at the Grove's annual World AIDS Day observance on December 1, 2011.
Congratulations to our 4 winners—Tania Sotelo, Nery Martinez, Stefany Zelaya and Nancy Rodriguez!
Read some of the essays below:
Moraga Valley Presbyterian Church: Junior High Kids Fast for 30 Hours
Around the world, nearly 8,000 children die each day of hunger. Some starve. Some get sick and their hungry bodies are too weak to fight. Either way, the result is the same: another child dies every 10 seconds.
At our April 16 Community Volunteer Workday, the Grove was privileged to host a group of twenty-five youth from Moraga Valley Presbyterian Church's Junior High Ministries. The youngsters were part of a much larger movement of students and youth groups all over the world making an effort to fight hunger and save lives by participating in World Vision's 30-Hour Famine program. These students had chosen to spend the final four hours of their 30-hour fundraising fast—working at the Grove.
Every year, hundreds of thousands of students participate in this fast, going without food for 30 hours. They experience hunger firsthand to help feed and care for hungry children. They learn what it takes to stop hunger by raising monies to help feed and care for tens of thousands of children all over the world. Their eyes are opened to a world of hunger and hope, and their minds are filled with the understanding needed to fight poverty and injustice.
A Personal Grove Story
My name is Kushaba Moses Mworeko a 31 year old Ugandan.
It was my pleasure commemorating World AIDS Day 2010 with fabulous people who are very much concerned with this epidemic that has claimed millions and millions of people.
As an oldest child of the six children, I became the caretaker of the family at age 15 after losing my sister and my parents (Johosophat and Jovia Natukunda Mworeko) of HIV/AIDS in 1989, October 1992 and April 1995, respectively. These have become my heroes and I feel so proud talking about them while trying to save a few people. In 1989 and early 1990s the AIDS epidemic was rampant in the country because public awareness was low and because the health care system was not well equipped to deal with the spread of HIV/AIDS. This epidemic had caught like bush fire and had already registered devastating effects throughout Uganda. Death, death, and death was the order of the day. For instance, in the Rakai District, South Western Uganda, 70% of the adult population had vanished because of HIV/AIDS, leaving behind helpless orphans. But the cause of their deaths remained a mystery because many thought the devastating effects of HIV/AIDS were the result of spells from African witchcraft (juju). Photo by Todd Franson, Metro Weekly
I remember a witchdoctor coming home to save my sister but in vain. There was a musician, Philly Bongole Lutaaya who was already infected with the virus and decided to save his countrymen and future generation. At that time, in Uganda, the truth about the disease was concealed because the word SEX had to be mentioned which is a TABOO in our culture. But amidst discrimination and rejection, Lutaaya was determined to unveil and reveal the Truth that "AIDS was the killer and it was spread through SEX, and blood contact."
The government came up with an awareness and education campaign on the epidemic with campaign messages from Philly Lutaaya's music.
The following are some educational lyrics from his AIDS awareness song and album, "Alone":
Today it's me
Tomorrow someone else
It's you and me
We've got to stand up and fight
We'll take a light in the fight against AIDS
Let's come on out
Let's stand together, fight AIDS
In times of joy, in times of sorrow
Let's take a stand and fight on to the end
With open hearts, let's stand up and speak out to the world
We'll save some lives, save the children of the world.
The government felt it was wise having these campaigns start in schools through music, dance and drama and then to families. I was so very involved in this awareness campaign and what hurt me most was that my family became the first victim. At first I didn't believe it, but …I came to realize it as years went by when my other relatives and friends died.
I am deeply frustrated by what is going on in my country. With the Anti-homosexuality bill 2009 which seeks to introduce life in prison or the the death penalty for acts of 'aggravated homosexuality' and to criminalize the 'promotion' of homosexuality (giving it seven years in prison). And if the offender is a business or a non-governmental organization, its certificate of registration will be cancelled on conviction. Other provisions are; death for gays that are HIV positive and up to 3 years in prison for failure to report a homosexual. In other words, this bill makes everybody a potential criminal.
Thank you to John Cunningham, the Executive Director of the National AIDS Memorial Grove, who invited me to attend World AIDS Day 2010 and who honored me on that day. I believe that the more we together come forward and talk about it, the stronger we become in working out the its remedies.
I like Dr. George Ayala of MSMGF who said that "Every person deserves the right to fair treatment and freedom from persecution. The more we learn about HIV, the more we see that working to eradicate stigma, discrimination, and violence is essential to securing the right to health for MSM.
I hope whoever reads this will be touched and realize that HIV/AIDS is real and something needs to be done about it.
Here is the original message I sent to John the night before World AIDS Day,
Hello friend,
Tomorrow December 1, is WAD. This day usually reminds me of Important people that I have lost to this epidemic. My parents and sibling (Dad, Mom, and Sister)- 1989, 1992 & 1995 respectively, my Uncles, Aunties, cousins and friends.
Everyone of us is either infected or affected. World AIDS Day is important for reminding people that HIV has not gone away, and that there is a lot still to be done.
According to UNAIDS estimates, there are now 33.3 million people living with HIV, including 2.5 million children. During 2009 some 2.6 million people became newly infected with the virus and an estimated 1.8 million people died from AIDS.
So, my appeal to you is, to stand with me tomorrow as we remember the loved ones we have lost and comfort the ones that are infected and continue to raise awareness on this epidemic.
Thank you so very much.
God bless,
Moses
"Light and Shade" by Miguel Ochoa, 2010 World Aids Day Youth Scholarship Awardee
LIGHT AND SHADE
By Miguel Ochoa
The National AIDS Memorial Grove depicts the road that one encounters through AIDS with the light and shade that is naturally produced by the Grove. Throughout the AIDS journey, one is bound to face moments when they would like to disappear off into the shade and live in darkness.And then there are other moments that bring light and brightness back into ones life, again.
I can only imagine that living a life with AIDS would be a life filled with broken circles, broken communities, and broken lives. The circle of friends and family that you once had is now broken by those who turned their backs on you when you first notify them that you have AIDS.
There are some people out there who have no support system what so ever, and must go through the emotional, physical, and spiritual roller coaster of dealing with their new situation alone.
But I can also imagine, that when you surround yourself by those who truly do care about you, and build a new group of friends who are going through the same things as you are, the circles of your life start to mend. If you do build a group of friends to help you cope with AIDS, you are indeed lucky, as that will create a new circle and bring the light back to your life. Until there is a treatment to completely cure AIDS, the community around you, and those circles around you, will keep breaking.
The AIDS Memorial Grove represents this sorrowful cycle with its circles that are whole and other that are broken. There is even a tree that lies in the middle of a path, by the Circle of Peace, forcing people to climb over it. For me, the symbolic meaning of that one tree is that there are big obstacles that will get in our way, and one way or another, it is necessary for us to find a way to go over those obstacles, which in the end, will make us become stronger and will again bring us out into the light.
"Snowdrop (Hope)" by Jeannel Miclat, 2010 World Aids Day Youth Scholarship Awardee
"Snowdrop (Hope)"
by Jeannel Miclat
"Stay still anak". The mother spoke affectionately as she watched her son. He wiggled and twisted this way and that, as he lay on an old rusted table. He was her last and only child to survive. Wrinkles had finally caught up to the seemingly permanent youthful face of hers. She already lost her earlier children to unwanted friends: Malaria, Dengue, and Tuberculosis. She was not willing to lose her last hope to those plagues again. His possible savior: the vaccines his mother saved up for months to pay for.
"Just a little pinch," the nurse smiled through her words as she prepared the needle. "Ready?" The little boy shut his eyes, clenched his fists and eventually nodded yes. "All done", the nurse grinned.
The nurse looked back over her shoulder to see the concerned mother watching her clean the needles and gloves. The nurse broke the tension. "This is a very small and very poor clinic. We cannot afford many gloves or needles. But now we know what to do. There is nothing else to worry about."
Throughout the world there are thousands of these tiny clinics. Not all of them know how, or can afford to sterilize medical tools that have been contaminated by bodily fluids that contain bacteria and viruses. This leaves many, many children exposed to HIV and eventually AIDS.
Since the early 1980's, the worldwide HIV infection rate has risen exponentially to 33.4 million in 2008. The highest concentrations of infected people are in some of the poorest and most inadequately supplied regions: Sub-Saharan Africa, South-east Asia, and Latin America. HIV and AIDS has shown it doesn't discriminate. It knows not your gender, your race, your sexual orientation, or your age. It only knows…you are a host, a possible victim and future statistic. Worldwide media campaigns and Public Services announcements have enlightened people on the transmission and prevention of HIV/AIDS. But what if you don't know? How will you protect yourself? Knowing it exists is not enough. Preventing is not enough. Treating is not enough. Curing HIV is when it will be enough.
"Untitled" by Rosa Reyes, 2010 World Aids Day Youth Scholarship Awardee
"Untitled"
by Rosa Reyes
One important lesson that I have gained through the processes of learning about HIV/AIDS, has been that anyone can get infected with HIV/AIDS. In this epidemic there is no age, race, gender, ethnicity, sexual orientation or socioeconomic status and even if you are not infected with the disease you can still be affected. For this reason, I can see the importance of bringing awareness through The National AIDS Memorial Grove.
When I first saw the subject for this essay I felt I was not going to be able to write it because I did not feel connected with the topic- I thought that this could never happen to me. Through research and learning more about HIV/AIDS I have come upon the realization that this is not true, because teenagers are very susceptible to getting an HIV/AIDS infection—especially if we are not educated and aware of the seriousness of what an HIV/AIDS infection is and how it is transmitted. I have also learned that the more aware and educated I become about this topic, the more I can protect myself and the people around me.
Just learning how to prevent the infection of HIV/AIDS is a big step to decreasing the number of people getting infected. If our society starts to put more focus in sex education the risks of young adults becoming infected will be less. This will provide people at risk with the information and choices: of using condoms consistently and correctly, being honest with your partner, abstinence, or delaying the first time one has sex. HIV counseling and testing, not sharing needles and treating sexually transmitted infections that will then lead to the prevention of HIV/AIDS.
Through all this, The National AIDS Memorial Grove plays an important role in bringing awareness to our community. The tragedy of HIV/AIDS brings people from different backgrounds together to learn and grieve with each other. It provides a sanctuary to those people who are going through the hardship of being infected with HIV/AIDS and to those who have had a dear one who has passed away due to HIV/AIDS. The National AIDS Memorial Grove also plays a vital role in maintaining public awareness of HIV/AIDS, as it reaches out to young people and brings them consciousness of this tragedy and its impact in our community.
Congratulations to the Winners of the 2010 World AIDS Day Scholarship Award
Scholarship The purpose of the Youth Scholarship Program is to engage youth to explore the ways they are touched by HIV/AIDS and the Grove. The National AIDS Memorial Grove Youth College Scholarship Program is an essay contest for current high school sophomores, juniors and seniors, addressing the significance of HIV/AIDS and the NAMG in up to 750 words and judged by a panel of experts from the community. This year, three scholarships of $1,000 USD were awarded, and winners were recognized at the ceremony on December 1, 2010, World AIDS Day.
Congratulations to our 3 winners—Jeannel Miclat, Miguel Ochoa, and Rosa Reyes
Read the essays:
"Snowdrop (Hope)" by Jeannel Miclat
"Light and Shade" By Miguel Ochoa
Nancy Pelosi speaks in recognition of World AIDS Day
Speaker Nancy Pelosi on World AIDS Day, December 1, 2009